16 janvier 2015
5
16
/

01
/

janvier
/

2015
21:09
We are in February 1983
The year 1982 was particularly difficult for the great British manufacturer and one could fear the worst at the beginning of the summer. Fortunately Universal (Hong Kong) took over the firm and even if the passage "Lesney SA" became "Matchbox Toys", with some impact on the financial and industrial plans, supplies were kept, without breaking, until the end of fiscal 1982. for 1983, the visit to the fair will be fully reassured about the future of the brand and its dynamism through a very encouraging program.
Matchbox Toys broadcast in France Kidco various productions, but to stick to the traditional range, many new and semi-new features are now ready.

In the 1-75 series of toys tumble tears, one notes no less than 25 changes of color or decoration and 23 new molds, a total of 48 innovations that we will review. The new models reflect a real eclectic because we find very sporty cars with Mazda IMSA (ref: 7), blue, an AMX IMSA (ref: 9), silver, Chevy Stock Car IMSA (ref: 34) yellow Porsche 935 Racing (ref: 41), blue sky,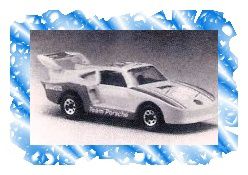 BMW M1 with spoiler (ref: 52), white, Mustang IMSA (ref: 67), black, famous touring car with a Firebird (ref: 16), black and cut roof T-Roof, a Datsun 280Z (ref: 24), black and gold, black Mazda RX7 and a copper (ref: 31), a Toyota Supra (ref: 60), white, a Corvette Targa 83 (ref: 69), silver,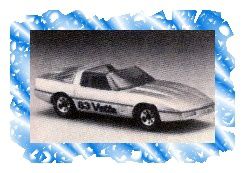 or now painted white 1976 Corvette with T-Roof (ref: 62), and a jumble Citroën Traction 15CV that will delight Citroënistes (ref: 44), black,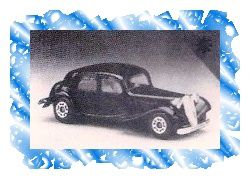 two police cars, one in English Rover Basic 3500 (Ref: 8), the other German Mercedes 450 on base (ref: 56), a curious fire truck (ref: 13), which is a fake American France, and another more dramatic, large-scale (ref: 22), a CX Ambulance (ref: 12), white,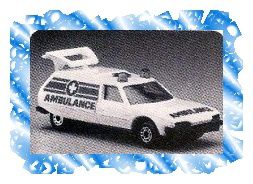 an American truck yellow Peterbilt with gray bucket, a VW Beetle (ref: 49), dark green version Sand Digger, the Ford Sierra XR4 (ref: 55), silver, a pickup 4X4 Holden (ref: 58) gold,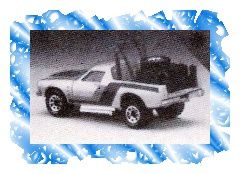 a 4x4 van and Chevrolet Racing Unimog snowplough (ref: 48) yellow with white tarpaulin.

In terms of decoration change, the Dodge Challenger # 1 changes from orange to yellow, the Cherry Bomb # 4 loses its red color in favor of the black Mercedes 350 convertible 6 becomes blue garnet, Car carrier 11 now becomes red and beige orange and silver, advertisements English bus No. 17 are the colors of "Matchbox" instead of "Laker".
A fun change is noted on the Range Rover No. 20 who loses his police car livery, white, in favor of a gold and black with insriptions 83. The Paris-Dakar race car No. 28 is painted in green Metallic and Matra Rancho No. 37 Blue in 1982, will be yellow with orange and black decor in 1983. The dump truck No. 30 will now be blue and yellow label with "international" instead of blue and silver, while the garbage truck No. 36 previously blue and orange will remain blue and silver. The cage of the zoo truck No. 35 is molded gray plastic instead of blue and brown plastic animals instead of yellow. The carrier horses No. 40 green and white until 1982 will be orange and brown. The tractor 46 blue 1979, green 1981, blue will again in 1983. Two beautiful decorated US are: Thunderbird 57 (red 42) becomes ivory and coral with black crest and red No. 82 Firebird 51 sees its hood adorned with a phoenix and flanks take the name of "Firebird". Orange replaces the blue on Flareside 53, the police car becomes Carmichael, with a red body, a fire vehicle and the tow truck Peterbilt No. 61 previously orange, enlists in the police with a white dress. The red and white TWA airport bus and Qantas will be blue and white again as in 1980/81, but with new British labels (not British Airway) for a Lufthansa for export as regards the second. Ferrari No. 70 has no inscriptions but becomes two-tone (silver red floor), the cattle transport No. 71 Dodge will be dark brown and yellow and the helicopter will do more TV but police in white and black instead of white and orange.
The floors of several models will be modified to receive new wheels or to submit entries conform to British regulations on companies and origin.

We note in passing that several models result from changes or modernization of old mussel (No. 9,16,34,49,67, etc ...), some 1983 new existed since 1982 in the US market with other references and sometimes other colors as special models USA (No. 16,23,62 ...).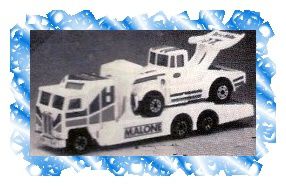 Convoy series in 1983 will see the introduction of Kenworth Aerodyne Box 9 CY Van black "Midnight X Press" previously reserved for the US market, and the appearance of two new features: a helicopter carrier CY II (Kenworth Cabover + lowloader + MB No. 75 decorated in gray metalized) and excellent CY 10 "Papaboss" Kenworth carrying "Superboss" Tyrone Malone, decorated in the classic colors white - blue - red famous stuntman.

Fans of earlier models will be satisfied with getting rich Yesteryear series of four numbers:

- A Ford van Y22 OXO, announced in 1982, but the release was postponed (decorated in red)

- Y23 Bus AEC 1922 "Schweppes", too late and too red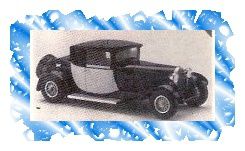 - Y24 Bugatti T44 Coach black and yellow that will satisfy the many Bugattistes and may be the basis for various transformations.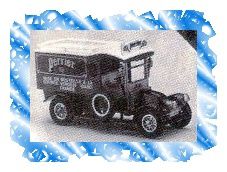 - Y25 Renault AG 1910 van in two shades of green, the colors of the source Perrier, to which we can predict a bright future and many more in the coming months advertising.

Part of the range gets a face-lifting: the Y4 Duesenberg 1930 green metal, light green will now be painted in brown and beige; MGTC the Y8 is decorated in blue with beige soft top, the Cord Y18 is burgundy with white top and Auburn gaining realism, ivory and black.
Two semi-innovations are presented: the truck tarpaulin Crossley 1918 ex-Raf, former Charbonnier now finished in berk with bright green top and advertisements "Carlsberg", Ford A 1929 Woodie with side windows obscured and commercials "A and J Box Stores "in relief; its cover is now painted in gold, but the result is poor. Finally the famous Talbot Y5 and Y12 Ford serve as advertising medium to new brands:

- Y5: Talbot cream and brown "Wrights soap" (soap)

- Y5: Talbot blue and white "Ever Ready" (battery)

- Y5: Ford black and white "Captain Morgan"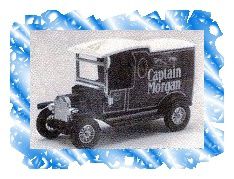 Airline ranges from Walt Disney models, Two and Espace 2000 series packs disappear; The series "Kings" is itself strong defatted since it is limited to 46 models including 12 new products, while there were almost 100 models in 1981. The K8 Pet Carrier (orange becomes yellow), K9 firefighters (with decorations yellow and white), K18 Tipper (silver becomes silver / white Condor), K26 cement mixer (red becomes orange) K28 skip loader (orange becomes red and brown), K43 fardier (yellow becomes green and silver), K74 Volvo station wagon ( Green turns blue), Porsche Turbo K70 (green becomes black), K95 Audi Quattro (white becomes silver), K99 Ambulance (Polizei becomes so changes color or decoration).

The new features are a BMW K82 police motorcycle (white and green Polizei), a tractor with K87 trailer replacing a rotary tedder, ambulance white and red Volvo K96, a K97 police Range Rover white and red livery with 2 motorcycles, a Porsche 944 K98 finished in white and blue "Cibie"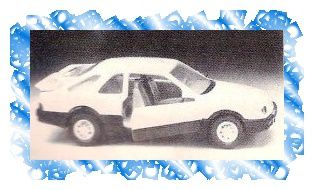 Ford Sierra XR4 K100, K101 golden Porsche Racing, a Matra Rancho pulling a boat of Coastguards in white and black No. K104, a Van Dogdge pulling a yellow Porsche Racing in white and blue on a K102 trailer.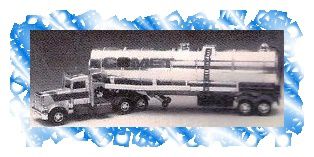 and finally an excellent stainless steel tank "Comet" towed by a gray and black Peterbilt without sleeper cab (formerly K31 modified) in the K103 reference.

Finally various boxes will be marketed in 1983 with largely changed content and a significantly modernized presentation. So these are a total of nearly 100 new or rejuvenated references Matchbox collector may acquire in 1983, if he wants to possess the full range, a model every three days! ...

Enough to satisfy the most demanding of purchase bulimia.
Source: Monthly magazine Minis Plastic Metal No. 83 of February 1983

Editors: Jean-Michel Roulet
Pour être informé des derniers articles, inscrivez vous :