19 septembre 2014
5
19
/

09
/

septembre
/

2014
05:56

Burago is an Italian brand of miniature vehicles.

1966: The Besana family creates Mebetoys Bburago brand's story really began in Italy in 1974. But before Mario Besana, creator future will work in different companies. He will try some time with the automaker Innocenti then integrate Molgora, a tin toy manufacturer stamped. In 1959, with his brothers and Hugo Martino, he began making toys. It was not until ten years in 1966 for the Besana family creates Mebetoys brand. This company (Meccanica Besana Toys), based in Milan, will realize many metal models. These will be mainly achieved in 1/43 and 1/25. Success will be immediate.
1973: Mattel buys Mebetoys In 1969, Mattel foothold in Mebetoys for a period of three years. Mebetoys will, initially, producing toys for Mattel account. But the American giant is greedy. He buys Mebetoys in 1973. In 1972, Mario Besana creates Martoys society. As Mebetoys she will know a huge success from its inception. The success is so important that soon proves essential to build a new plant.
It will be launched in 1975 in the Italian city of Burago, near Milan. Mario Besana took the opportunity to rename Martoys, whose name is not very catchy. The name is chosen Bburago 1974. b is doubled in order to distinguish the host city of the name of the company. This first letter also to recall the name of the founder (Besana).
To see Catalogs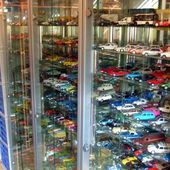 de 10 000 modèles embellissent ma collection personnelle de miniatures autos, motos et camions, modèles réduits au 1/43, 1/64 et 1/18e